What Doing Nothing May Cost You
Construction technology delivers an ROI for your business in so many ways. Without incorporating a construction technology solution into your operations, you are undoubtedly incurring additional costs that could be easily cut from your bottom line.
Highlights
Technology indisputably saves time. When you, your field managers and crews work more efficiently and optimize your available time, you get more done during that time and costs are therefore decreased for each activity.
Without a system to tell you where your equipment and tools are, you likely end up buying or renting assets you couldn't locate or didn't realize you already have.
With accurate operational cost data, one contractor was able to identify waste and reduce their mixed fleet by 8% equaling just under $1 million in sold assets.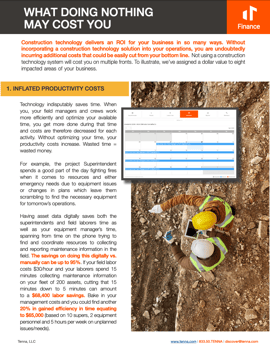 Download Now