Tenna Telematics Technology
Telematics is a technology that monitors engine-operated assets, such as equipment, heavy trucks and vehicles, remotely by transmitting GPS position, onboard diagnostic information and other vital asset health data to a central location for monitoring and analysis.
Highlights
Cellular and GPS trackers gather data from an asset's Engine Control Unit and transmit it to the cloud.
Monitor location, speed, fault codes, engine/idle hours/miles, diagnostics, ignition state, fuel and more.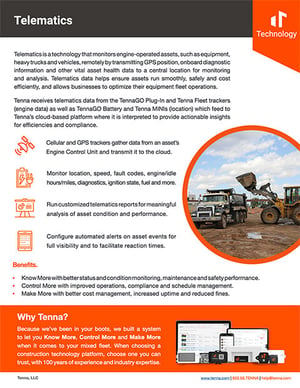 Download Product Sheet