SAFETY CAMERA
Safety cameras can boost your safety program by providing insights so you can stay fully informed of driving incidents and allowing you to continuously monitor and improve your safety performance.
Highlights
Maintain full visibility over your on-road fleet

activity at any time.

Be alerted when incidents occur during trips

with a notification and corresponding footage.

providing context around unsafe event details

Analyze event details including location, traffic

conditions and more in reports and footage

Identify safe performance, near misses or areas for improvement for each driver to focus on.

Coach drivers to instill a culture of safety and inspire progress.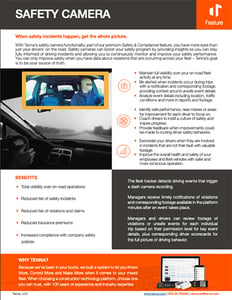 Download One Pager