Right Size for Construction
We come from construction and we know that one size does not fit all. You need a solution for your business that will partner you for success and scale with you as you grow.
Highlights
Focus on Customer Service and Success. Our various tools and help resources cater to all learner types and we are available and accessible to answer your questions directly at any time.
Org chart. Customizable levels to build your unique org chart and organize your Tenna system as you operate business regularly.
Robust Functionality for your use cases. Features managed and communicated locally and accessible across your widespread teams and operations.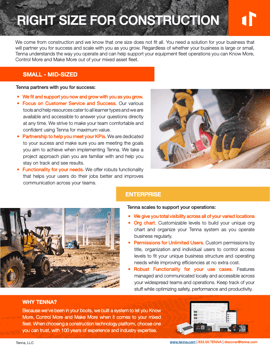 Download Now