TennaMINI Tracker Plug-In Product Sheet
TennaMINI is the smallest available cellular GPS tracking device for the construction industry.
Highlights
Durable, easy-to-install and long-lasting with a rechargeable battery and low power consumption for reliable equipment tracking and management.
Captures location and ignition on/off data, transmitted across cellular networks directly to Tenna for asset location updates.
Supports insights on how your equipment is utilized (run time), where they are currently on the map and where they have been.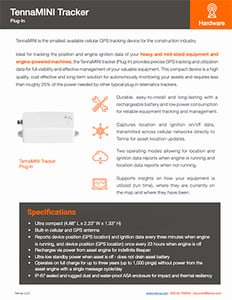 Download Product Sheet