TennaGO Product Sheet
TennaGO cellular trackers use IoT technology to connect your equipment to your mobile device for real-time tracking and monitoring.
Highlights
This tracker's compact size and durability allows it to mount outside (recommended) or within an asset.
Available in both rechargeable plug-in and long-life battery models (up to 7-years)
TennaGO is flexible, durable, easy-to-install and long- lasting for reliable equipment tracking and management.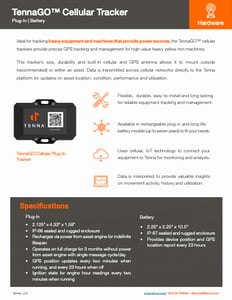 Download Product Sheet