TennaCAM Product Sheet
Ideal for monitoring on-road safety incidents and driver behavior, the TennaCAM provides footage of accidents or harsh driving events for trucks and vehicles in your construction fleet.
Highlights
Connects to its paired OBD-II or JBUS fleet tracker

via WiFi. Capture of video from driving events is

triggered via Bluetooth link between the tracker

and camera device.

Captures footage that provides context related

to accidents or harsh driving events such as

hard braking, rapid acceleration and collisions.

Footage auto-updates to platform six seconds

before and four seconds after each harsh driving

event is triggered and sends related notifications.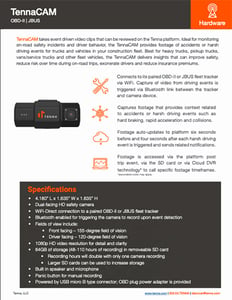 Download Product Sheet