Tenna App
Always keep your team connected with Tenna. Our equipment fleet management app gives you the freedom to step away from your desk and access your asset information from Tenna's One Platfrom at your fingertips.
Highlights
Create new assets, edit existing assets and connect installed trackers to the platform.
Access and update pertinent asset details such as status, condition, location, assignee, and more.
Keep working in offline mode when out of range. The app will sync to Tenna when back online.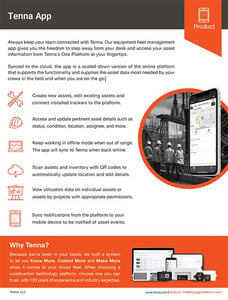 Download Product Sheet