Tenna Reserve It
Sharing and allocating resources across locations is critical to operations. It's time to eliminate the chaos, procrastination, forgetfulness and hoarding that impacts your project needs.
Highlights
Reserve assets straight from your mobile device. See asset calendars to know which assets are currently reserved and when they are needed by multiple projects.
Facilitate asset trades between superintendents to assign to the crews that need them the most.
Analyze reports on under/over reserved assets to make better buy/rent decisions.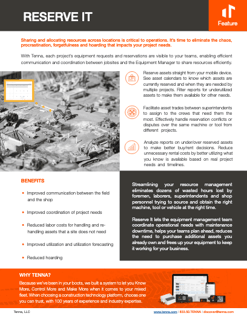 Download Product Sheet