Tenna QR Product Sheet
Tenna QR Codes connect your assets and inventory to your mobile device for location tracking and monitoring in real-time.
Highlights
Tenna's QR solutions help eliminate misplaced or missing inventory and help employees save time searching for tools that can be better spent devoted to operational productivity.
QR technology is excellent for small tools and miscellaneous equipment, and as a material inventory tracker.
Employees can find assets on the go, scan an item before use and report quantities or maintenance needs upon returning.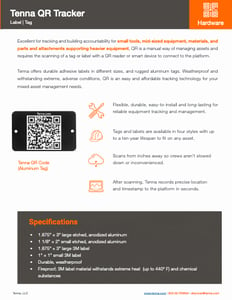 Download Product Sheet