Tenna Notifications
One of the biggest challenges for construction businesses is effectively communicating on events and actions impacting your assets and operations.
Highlights
Know when an asset is left behind, breaks down or has an upcoming deadline.
Take action when assets are underutilized or unsafe assets or drivers jeopardize your operations.
Stay informed to minimize costly predicaments. Stay on top of assets no longer needed.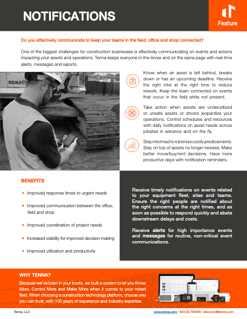 Download Product Sheet