Tenna Integrations
With over a century of firsthand experience in heavy civil construction, we've learned that it's difficult, if not impossible, to have one system to manage all the core functions of a construction organization.
Highlights
Know More with visibility into your existing software systems such as project management and estimating software with SaaS (Software as a Service) integrations.
Control More by managing your entire equipment fleet on One Platform with OEM and AEMP integrations vs. pulling telematic data from disjointed systems.
Make More with business, accounting and finance software ERP (Enterprise Resource Planning) integrations.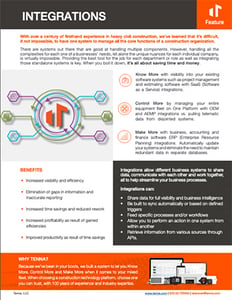 Download Product Sheet