Tenna Inspections
A critical part of your field work involves equipment inspections to ensure safe equipment performance and to identify hazards or maintenance and repair needs.
Highlights
Improve visibility over operations and safety performance with easy-to-complete inspection forms available to the shop.
Replace paper inspections, reduce waste and be notified if inspections were missed to ensure they are performed.
Reduce insurance premiums with documented safety tracking programs.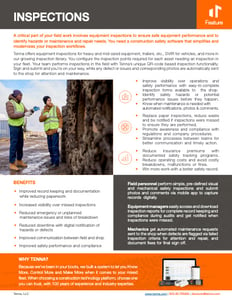 Download Product Sheet