Geofences
Do your assets ever seem to "walk off" your project sites? Do you want to be notified when your assets are moving during off-hours? If you need a way to see all your mixed assets located on a specific site in one view, Tenna has you covered.
Highlights
Draw precise boundaries, zones and fences around defined areas on the map for close monitoring.
Maintain total visibility by always knowing which assets in your fleet are on which sites.
Control when assets are billed to your sites based on geofence configurations.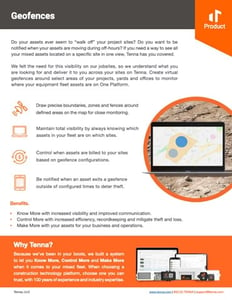 Download Product Sheet