Equipment Fleet Management
Do you struggle to see and manage your mixed assets across your operations? Tenna's construction technology platform is designed to let you Know More, Control More and Make More so you can stay connected to your assets, maximize your operations and resources and grow your business.
Highlights
A well-organized and easy-to-use asset database is at the root of an efficient equipment management system.
See how your assets are utilized to make more informed decisions about owning, renting, moving or selling.
Share assets across your sites so your team has the resources they need.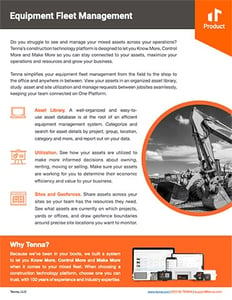 Download Product Sheet