Driver Scorecard
Tenna's Driver Scorecard feature leverages telematics technology to identify driver performance data enabling contractors to view and analyze behavioral trends for improvement in fleet safety.
Highlights
Know when drivers are non-compliant or at risk with alerts and reports. See driver performance and areas for improvement.
Promote awareness and compliance with company procedures. Reduce complaints about your drivers' on-road performance.
Reduce insurance premiums with documented safety tracking programs.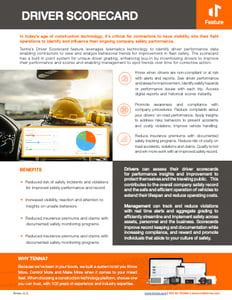 Download Product Sheet