Tenna BLE Beacon Product Sheet
Tenna BLE Beacons are ideal for effortlessly tracking tools, smaller to mid-sized equipment and miscellaneous, non-powered assets scattered across a site or grouped together.
Highlights
Durable, easy-to-install and long-lasting for reliable equipment tracking and management.
Beacons can be used indoors and outdoors with a ruggedized design to withstand the elements.
Low energy makes this technology an affordable way to monitor asset location.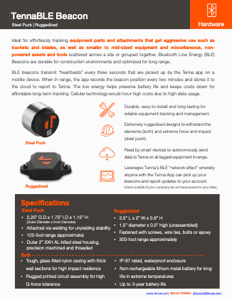 Download Product Sheet