IFTA COMPLIANCE
Compliance made easy. If you work in multiple states, then you may often move your equipment across state lines from project to project and as a result, must comply with government IFTA requirements.
Highlights
Attribute and designate assets that require IFTA compliance and filter your asset list to find these easily

Manage IFTA miles (vs. non-IFTA miles) driven by automatically accumulating miles at the end of each quarter in consolidated reports.

Maintain compliance and support for audits by analyzing reports of trips taken by trucks and vehicles with IFTA reporting requirements to determine IFTA miles driven and avoid penalties.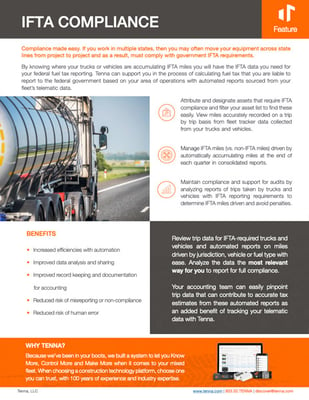 Download One Pager