CONSUMABLES
There is an easier way to manage your consumables, temporary materials and inventory and shed some light onto how many of these items are available, where they are and when to replenish in your shop or warehouse.
Highlights
Always know how many of your inventory or consumable items are available, when they need to be replenished and which jobsites are depleting which inventory the most by running easy reports.

Improve accountability and save time for personnel that use or handle consumable assets.

Avoid unnecessary purchases with eyes on your inventory and gain efficiencies in the field, warehouse and shop that lead to improved productivity and time savings.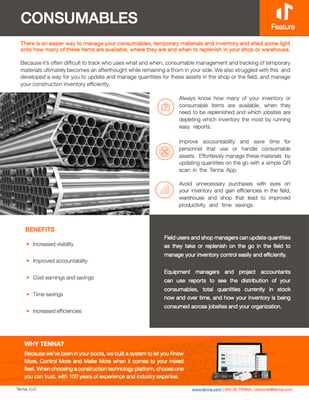 Download One Pager