BUILT FOR CONSTRUCTION
One Platform for All Your Equipment Management Needs
Highlights
Save Time. Quickly access the assets and data you need to work more efficiently and get time back. Always know where your assets are so you can put them to work faster.
Improve Accountability. Know what equipment is on each project and who is currently assigned to and responsible for each machine, vehicle and tool.
Reduce Lost Assets.Lose fewer assets while saving time and costs by monitoring your fleet for who used which asset, when and where. Group assets to know what has been left behind.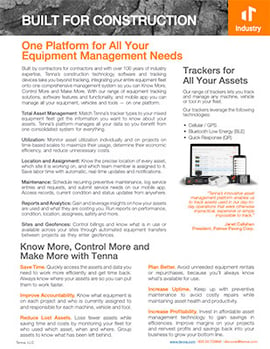 Download One Pager